Yes, were cord cutting before cord cutting was a thing!
- Thank you,
Brambley Hedge Rabbit Rescue
and Erika!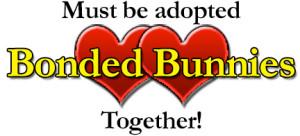 AGE:
2017
WEIGHT: 4 lbs
BREED: Mix/Lionhead
COLOR: White
GENDER: Spayed Female & Neutered Male
LITTER BOX HABITS: Good
BHRR
is still conducting a
fundraiser
to cover their CC bill after taking in 38 rabbits in March of 2017. This week, we'll try to spread the word for them as much as we can.