An extra long weekend, hoomin? You have a weekend? Oh, you mean you've got extra time to work on our garden, right?
- Thank you,
Brambley Hedge Rabbit Rescue
and Erika!
PS: A little bit about Autumn and Dandy,
They are a bonded pair :-)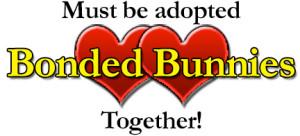 Born: 2015 & 2017
WEIGHT: 4 lbs
GENDER: Spayed Females
LITTER BOX HABITS: Good
The BHRR
fundraiser
is still going on.