What do you mean "ALMOST" Friday? That's all your fault, you know that, right?
- Thank you,
Brambley Hedge Rabbit Rescue
and Erika!
PS: Remember
Calvin and Hobbs
? They found a forever home!
A little bit about
Dahlia and Leo
,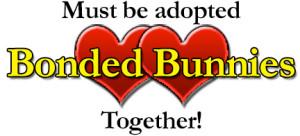 BORN: 2017
WEIGHT: 4 lbs
BREED: Mix/Lionhead
COLOR: White
GENDER: Spayed Female & Neutered Male
LITTER BOX HABITS: Good
The BHRR
fundraiser
is still going on!